The Nutrient Management Guide is published as seven sections:
You can download the amendment sheet for printed versions from the Tried and Tested Fertiliser page here.
February 2020 update
The 2020 revision features the first major changes to phosphorus (P) guidance in nearly four decades.
"The core of the P recommendations for cereals will stay the same, with applications usually made to maintain soils at Index 2. However, grain offtake information has been improved and some maintenance rates will change, due to fine-tuning of standard yields."
Sajjad Awan, AHDB
January 2019 update
In 2019, the guide was updated to provide further clarity on sulphur management in cereals and oilseeds production. Sulphur is an essential plant nutrient that has important effects on both the yield and quality of crops. The majority of UK soils now require sulphur application to boost protein content.
The research on sulphur was conducted by ADAS and Rothamsted Research with funding from AHDB, Anglian Water Services Ltd, CF Fertilisers UK Ltd, Monsanto UK Ltd, Severn Trent Water Ltd, United Utilities Water Plc, Wessex Water Services Ltd and Yorkshire Water Services Ltd.
Digital Versions available
AHDB has produced digital versions of all seven sections of RB209. The benefits of using the digital version over the printed copies include automatic updates and alerts, the ability to save notes and easier navigation.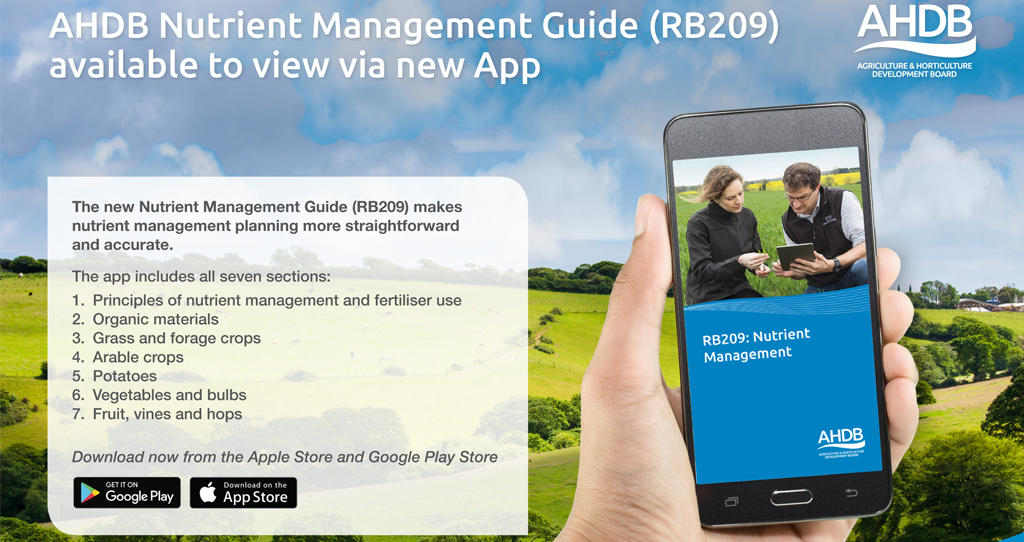 With quick and easy access to videos, information and recommendations from the guide, it is practical for use in the field and will always be the latest version available – plus it's lighter to carry and doesn't need an internet connection once downloaded.
Available for Apple and android devices, the app can be found by searching for RB209: Nutrient Management on the App Store or Google Play.