Soil analysis is absolutely essential for good decisions on nutrient use. The laboratory report for routine analysis for pH and P, K and Mg indices gives information needed for the best economic use of lime, phosphate, potash and magnesium. This in turn supports the nitrogen applied so this one sheet of paper can have a very large effect on crop performance and margins. Everything depends on the laboratory results being correct and representative for the field or area sampled. Two things are needed for this:
the sample taken and sent ot the laboratory must be representative and,
the sample must be analysed correctly and accurately by the laboratory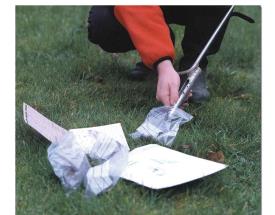 The leaflets provide information on
Why an aspect of sampling is important
How often samples should be taken
When samples should be taken
How are samples are taken
How samples should be submitted
The leaflets also remind readers that PAAG laboratories can provide detailed information. See annual PAAG reports.
Note: The Professional Agricultural Analysis Group (PAAG) was established in 2009 to help ensure a common quality standard amongst participating laboratories and to promote the benefits of soil analysis for efficient nutrient management.