New to Nutrient Management?
Good nutrient management is one of the keys to farm profitability. Getting things wrong risks yields, profits, the environment and compliance with regulations.
Our New to Nutrient Management Guide can help you if you are new to nutrient management or if you require a simple step by step guide to the principles of nutrient management planning.
All our information is available in electronic format on Tried & Tested USB memory sticks.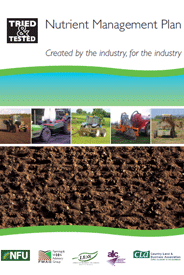 How do I get started?
The Tried & Tested Nutrient Management Plan has been developed to helped make fertiliser and manure planning and recording simple and practical farmers.
The Nutrient Management Plan is intended to be used alongside the Defra Fertiliser Manual (RB209) and Defra NVZ Guidance.
For information and best practice advice regarding the storage, handling and spreading of manure and slurry take a look at Think Manures.
An introduction to feed planning for cattle and sheep has been created to introduce farmers to the concept of energy balance in livestock farming. Create your own balance sheets and see how your energy balance stacks up by reading Feed Planning for Cattle and Sheep.
Tried & Tested tools
Tried & Tested A3 tear‑off pad can be used with the Nutrient Management Plan to create field record sheets. The sheets can be used to plan applications of nutrients on one side and then record the actual applications at the end of the season on the other side. You can download the A3 pad here.