In January 2019, The AHDB Nutrient Management Guide (RB209) was updated to provide further clarity on sulphur management in cereals and oilseeds production.
Sulphur is an essential plant nutrient that has important effects on both the yield and quality of crops. The majority of UK soils now require sulphur application to boost protein content.
In the current revision, main emphasis is on sulphur availability from different sources and recommendations under different growing conditions.
The research on sulphur was conducted by ADAS and Rothamsted Research with funding from AHDB, Anglian Water Services Ltd, CF Fertilisers UK Ltd, Monsanto UK Ltd, Severn Trent Water Ltd, United Utilities Water Plc, Wessex Water Services Ltd and Yorkshire Water Services Ltd.
Dr Sajjad Awan, AHDB Resource Management Scientist, said: "The AHDB concept, when we decided to take management and ownership of RB209, was to continually update so our customers have the latest advice and guidance on crop nutrient management."
"The amendment sheet is inclusive of all changes across the seven sections of RB209, therefore you need only one copy. Those ordering hard copies via AHDB will automatically receive one and if you pick one up at an event, make sure you have the amendment sheet enclosed."
James Price, farmer and Chair of Arable Technical Working Group, said: "This is the second update we've released for RB209 since launching the 9th edition in May 2017."
"I'm excited about what comes next because we have research in the pipeline which will help develop further guidance on crop nutrition with greater emphasis on produce quality."
AHDB has produced digital versions of all seven sections of RB209. The benefits of using the digital version over the printed copies include automatic updates and alerts, the ability to save notes and easier navigation.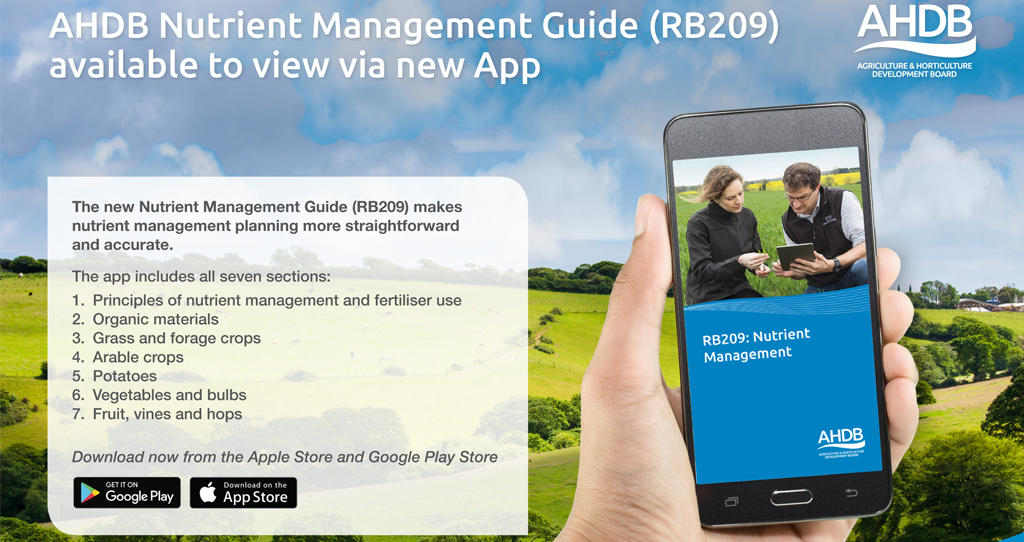 With quick and easy access to videos, information and recommendations from the guide, it is practical for use in the field and will always be the latest version available – plus it's lighter to carry and doesn't need an internet connection once downloaded.
Available for Apple and android devices, the app can be found by searching for RB209: Nutrient Management on the App Store or Google Play.
The Nutrient Management Guide is published as seven sections:
You can download the amendment sheet for printed versions from the Tried and Tested Fertiliser page here.