How to get your free copy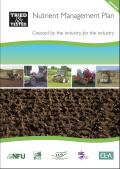 Bulk and single copy orders are welcome, with free postage and packing, by clicking one of the options below:
Aimed at farmers and advisers, this revised practical tool in booklet form provides:
A season by season, step by step guide to creating annual field and farm nutrient plans.
Planning forms for both farm and field that can be photocopied and easily completed from the booklet, or printed and completed from the book on the USB stick.
Recording forms for the application of fertilisers on each field so that you can compare planned applications with your actual fertiliser application.
A handy nutrient management glossary of terms at the back of the booklet
Planning and recording sheets for the application of organic manures
If you are in an NVZ this booklet helps to maintain records for cross compliance purposes.
Changes include:
Reflect changes in NVZ guidelines.
Indications where greenhouse gas emissions can be mitigated.
Web links and contact details of our supporters and partners have been updated.