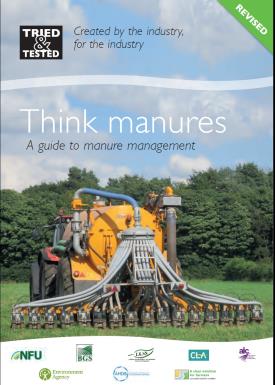 Tried & Tested 'Think Manures' has been revised by the Professional Nutrient Management Group (PNMG) and the Environment Agency were key players in the revision of this informative easy-to-read booklet. It is now available in downloadable PDF format or on the latest Tried & Tested USB stick.
How to get your free copy
Bulk and single copy orders are welcome by clicking one of the options below:
Order a printed copy to be sent in the post by leaving a voicemail message on 024 7685 8896 or click here to send an email. Please provide a postal address and the number of copies required when ordering.
Download a searchable PDF version - click here
Request a Tried & Tested USB memory stick in the post - click here
Aimed at farmers and advisers, 'Think Manures' is an illustrated guide to understanding:
When to spread
How to make best use of your stores
How much to spread
Where to spread
How to spread accurately and evenly
Consider the likely return on investment for soil and manure testing on farm
Where to get further help and advice.
Changes include:
The definition of slurry and the notes associated with the diagram on separating clean and dirty water help to clarify the difference between slurry and dirty water,
Reference to manures heaps reflects the change in NVZ requirements in May 2014
The choice of spreading machinery has changed and the appropriate use of deep injection and high trajectory spreading has been clarified.